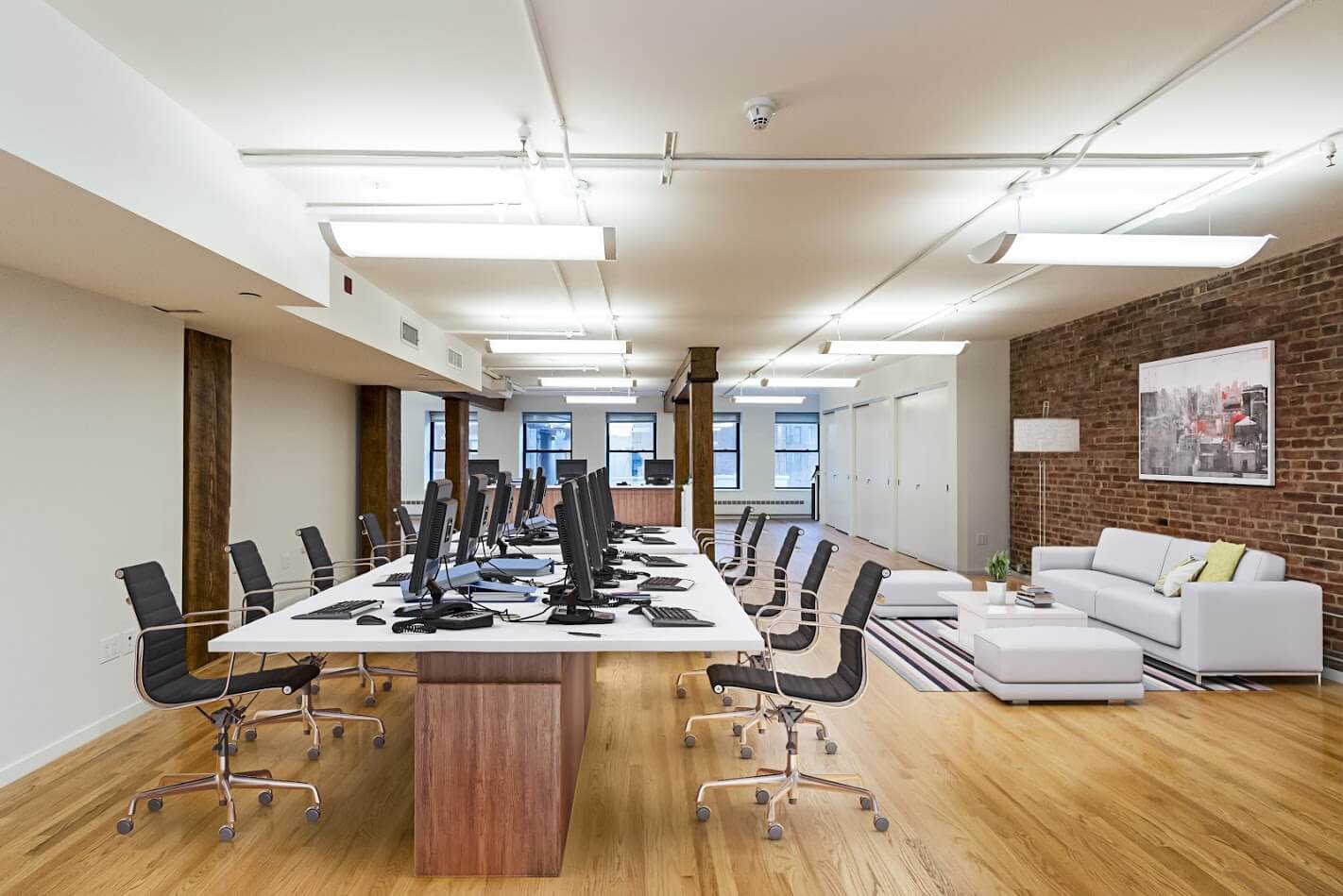 31
May
2018
Small NYC Office Spaces
In the past we have gone into detail about how many companies outgrow coworking space earlier than they think because the relative costs of coworking spaces are so high. In this post, we want to focus on the small office spaces that are great stepping stones from coworking spaces.
Where do I find small offices?
Because of the way that buildings are setup, you are typically going to find smaller offices in older buildings that have more subdivisions. Landlords generally prefer to limit subdivisions on space, so newer buildings typically will have fewer subdivisions and larger office spaces.
Small office buildings are also ideal for finding small office spaces. These buildings typically have small floorplates, meaning that instead of having a subdivided floor, you can have a full floor instead.
This space we have listed in a perfect example of the benefits of a small building. It's 3,300 square feet but is a full floor, and has windows on 4 sides.
Small NYC Office Spaces Available
At Redwood, we specialize in helping small businesses find office space, and we have a huge variety of small office spaces available. Some small office spaces we have available include:
3,100 Square Feet in Herald Square
High-end pre-built space on the 11th floor in herald square. Click here to see the listing.
1,365 Square Feet in the Fashion District
An upscale space located in the heart of the Fashion District. Click here to view the listing.
1,315 Square Feet in Midtown East
Office right near Grand Central in a doorman building. Click here to view the listing.
2,130 in the Plaza District
A sunny, pre-built space with 3 conference rooms. Click here to view the listing.
3,000 Square Feet in Midtown
A bright space with high ceilings in the heart of midtown. Click here to view the listing.
2,800 Square Feet in Hudson Yards
A high-end Hudson Yards pre-build with exposed brick and wood beams. Click here to view the listing.
1,600 Square Feet in Midtown
A sunny open space 2 blocks from Grand Central. Click here to view the listing.
Finding the right small office space
With so many different options available for small office space in NYC, it can be quite a challenge to decide where you want to go. This is one of the many reasons that you should work with a commercial real estate broker with experience in this area of the market. If you would like to find the perfect office space for your small business, contact us.