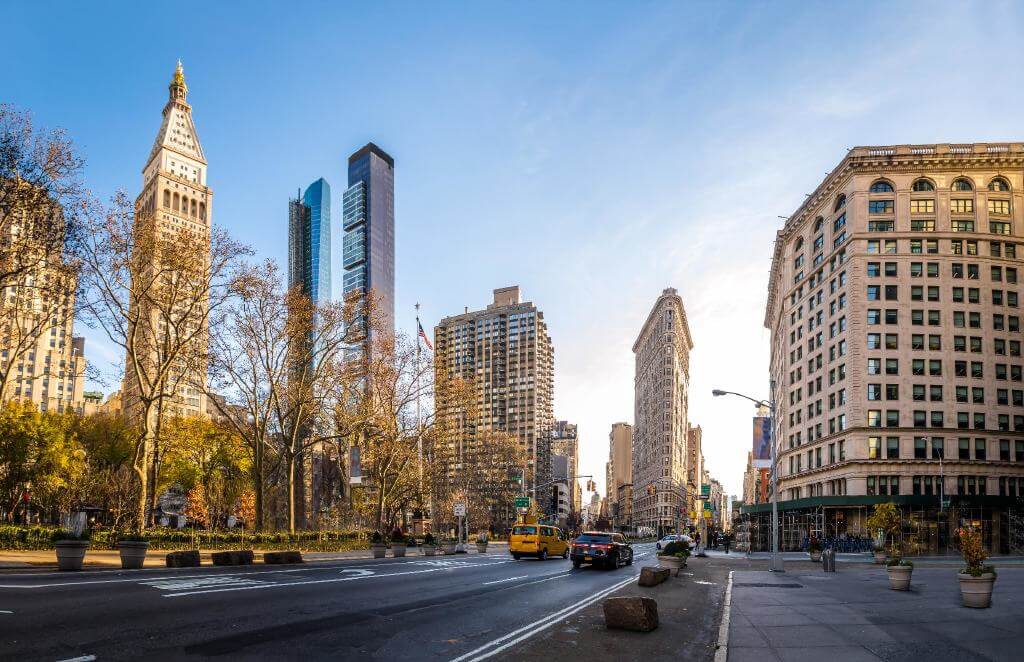 30
May
2017
The Flatiron District: Leasing Flatiron Office Space
In the past decade, the Flatiron District has become an incredibly desirable place to live and work. With many amenities and attractions, businesses large and small look at the neighborhood when considering where to move their offices. Here's what you need to know about both Flatiron office space and the neighborhood at large.
An into to the Flatiron District
The Flatiron District gets its namesake from the famous Flatiron building which is located near the center of the neighborhood. Boundaries for the neighborhood are typically viewed as Union Square to the South, Lexington Avenue to the East, 25th Street and the NoMad neighborhood to the North, and Sixth Avenue to the West. Less than twenty years ago, the Flatiron District was both a dangerous and undesirable neighborhood; however, in the past ten years it has become an increasingly desirable neighborhood in which to live, work, and play. Today, Flatiron is a 24 hour neighborhood with trendy restaurants, bars, and shopping. The neighborhood features architecture built primarily from the 1890s to the 1920s with most buildings shorter than 25 stories, with a few notable exceptions.
What makes the Flatiron District a good place to work?
Like much of Manhattan, this was considered a dangerous and undesirable neighborhood in the not too distant past, but has become a beacon for TAMI (Technology, Advertising, Media, and Information) tenants and startups that are attracted to the neighborhood vibe, trendy restaurants, less congestion than Midtown, and access to Madison Square Park.
What kind of tenants lease Flatiron office space?
In recent years, the Flatiron District has attracted many TAMI tenants. Tech companies large and small call the district home, with venture-backed tech companies like Dropbox, Peleton, Taboola, Betterment, and Mashable to name a few, along with VC firms who support them. These TAMI tenants are drawn to the largely open-format office spaces found in the neighborhood.
Office space options in Flatiron
The buildings are often classic loft-style properties with exposed ceilings, large windows, hardwood or concrete floors, and sometimes features like exposed brick. These open floorplans are popular with TAMI tenants allowing for more collaborative work environments, and the smaller floor-plates allow smaller businesses to take entire floors when compared to larger buildings in Midtown and Downtown. The buildings often have unattended lobbies.
Neighborhood office rents
Despite the fact that the buildings are older, and lack the amenities of larger office buildings located in Midtown like attended lobbies and concierge services, leases on Flatiron office space have similar and sometimes higher prices per square foot. The influx of TAMI tenants–often backed with VC funds–have raised rents in the neighborhood since 2010 by 49% to an average of $65 per square foot. While they have gone up considerably, they are still much lower than in other extremely desirable submarkets.
Going Further
The Flatiron office market is more competitive and expensive than ever, though there are still deals to be had in the neighborhood. Our brokers have placed numerous clients in flatiron office spaces. To learn more about leasing in the flatiron district, contact us today.