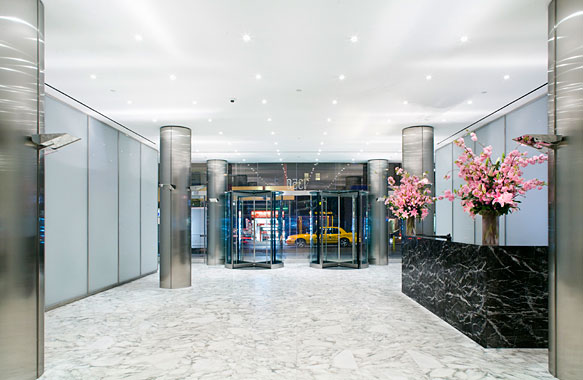 05
May
2016
What to Do If Your Business MUST Take a Short Term Lease?
As discussed in Redwood's previous Blog post, "Why Do Landlords Want Long Term Leases?", finding a short-term lease (under three years) in New York City will not be an easy task. Although highly desired by younger companies, startups, or any business unsure of how to project their growth over the next few years, the majority of landlords remain firm on their stance of 3 year minimums for new leases. Companies that don't want to commit to leases of that length are left with two main options, to find a sublease or to go to an office center. (Some landlords will do short term leases although we will not be discussing that as they are outliers)

Sublease Approach
Subleases are a great option for a business looking for short term space as they often allow a business to assume the lease responsibilities of a lease-holder that doesn't need the space for the remainder of their lease. As a result of this, they often tend to be shorter term than three years. In addition, many times they are below market value as the subtenant is absorbing market prices from the start of the lease and immune to spikes in the market that may have occurred since the inception of the lease.
However, there are a couple major obstacles for subleases. The first obstacle being that they are rare. A potential subtenant will need to find a space in the size and price range they desire from a business that has only 1 to 2 years remaining on their lease. The second obstacle is that most sub-landlords (tenants looking to sublease their spaces) like to save some money, by not paying a commission to brokers, and market the spaces themselves. By not using brokers, these spaces go largely unfound and remain within the sub-landlord's network. As a result of these two obstacles, subleases are hard to come by.

Office Center Approach
The other option, and the more popular one for startups, is office centers. Office centers, such as Regus, WeWork, and NYC Office Suites, offer short term space to their tenants at a premium rate. Tenants can rent anywhere from one month to several years and from one desk to an entire floor. Usually there are shared amenities like a kitchenette/break area and conference rooms (for an extra charge). Companies like Regus provide a more corporate feel while companies like WeWork provide a more casual tech/startup feel. There are dozens of office centers to choose from and most tenants can find a home that fits them. Although more expensive for the premium amenities and flexibility, office centers are a great short term option.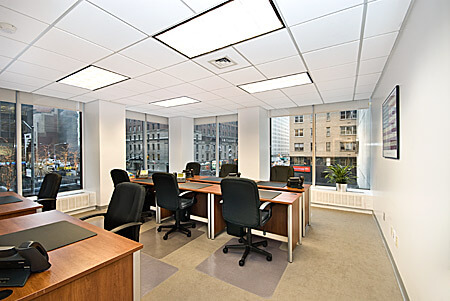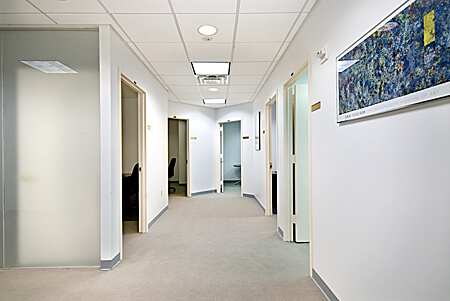 (Pictured above are short-term office spaces offered by "NYC Office Suites".)
So, if your business needs a short term office solution, know that there are two great options available. Evaluate the pros and cons of each to better decide if you would be a better fit for an office center or a sublease. I hope that this article leaves you better informed on how to find short term space!
– David Goldberg, Managing Director